Bringing UC capability to most any learning space
The power of EduFLEX
The right answer. For right now.
Don't be left behind
Hybrid learning technology is essential for colleges and universities to meet students' changing needs. Converting dozens or hundreds of traditional classrooms to accommodate distance learning can be a challenge – financially, logistically, and in terms of time. That's why ClearTech created EduFLEX: The Solution for Hybrid Classrooms (see spec sheet). It's an affordable, scalable, easy-to-implement way of bringing a unified communications platform to almost any space, even ones without an existing AV infrastructure. To see how Pepperdine University has put EduFLEX to use, read our case study.
A unified communication platform utilizing virtual USB PTZ Cameras
EduFLEX will help you distribute your audiovisual content in a way that brings true unified communications capability and flexibility to the classroom. Virtual USB Drivers allow up to 5 IP based cameras to be utilized as though they were connected by USB. Moreover, as a UC solution, EduFLEX is capable of supporting your existing video conferencing platform. That means no disruption for students, or for your faculty, because there's almost no learning curve with EduFLEX. From day one, it allows instructors to focus on teaching rather than technology. To learn more about how higher ed institutions can use technology to thrive in uncertain times, download our EBook, Pandemic 101.
How EduFLEX works
Plug-and-play simplicity.
Preconfigured for immediate use
EduFLEX incorporates a PTZ camera, microphone system, DSP, PoE switch and interconnect cables in two preconfigured formats. Choose from a portable system that incorporates all components in a rolling case, or a desktop or rack-mountable system with all components built in. The EduFLEX spec sheet makes it clear: Non-experts can set up both systems in minutes simply by plugging in an HDMI cable and setting up the camera. EduFLEX's plug-and-play design makes this hybrid learning solution economical to purchase, easy to install, and inexpensive to maintain.
Convenience across classrooms
EduFLEX offers all the benefits of unified communications without all the hardware that used to come along with it. Free from the rigidity of complex, hardware-based systems, colleges and universities can deploy EduFLEX in a vast range of spaces. In addition, its simplicity and ease of operation enable multiple instructors to use the room without compromising their individual teaching styles. How does EduFLEX perform in real life? Read our case study about Pepperdine University's deployment of EduFLEX in nearly 100 environments across five campuses.
What happens next
Let's talk
Each higher ed institution operates within a unique set of circumstances, so the first thing we do is listen to you to gain a clear understanding of your needs. If EduFLEX is right for you, ClearTech preconfigures and tests the solution to ensure everything works perfectly. From our initial conversation through installation, we solicit and incorporate your feedback to ensure that the end result delights – but doesn't surprise.
Contact Us
The easiest way to learn more about EduFLEX is simply to ask. We'll listen to what you say, and respond with the solution you need.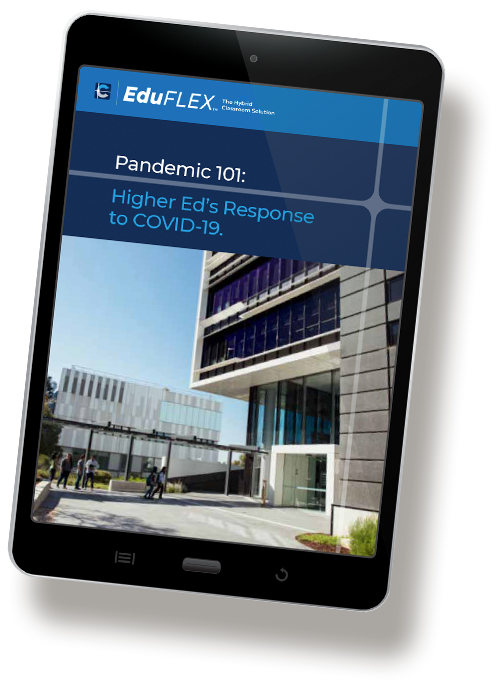 Questions about hybrid learning? Download some answers.
If you're unsure how to meet the needs of your students and staff during the pandemic, our eBook will get you up to speed, comprehensively and quickly.