A Best-in-Class Educational Technology Upgrade
March 2023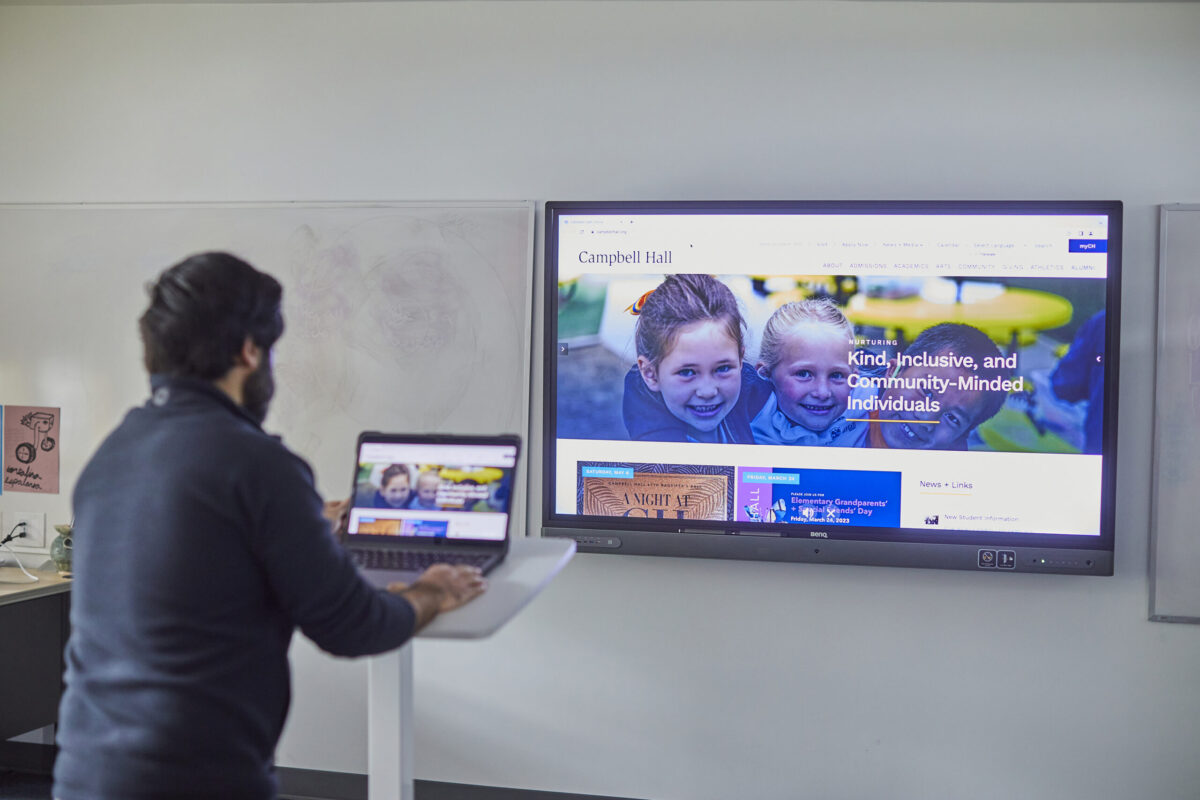 Case Study
Campbell Hall K-12
A Best-in-Class Educational Technology Upgrade
Campbell Hall day school asked ClearTech to submit a recommendation for sweeping classroom technology upgrades. We responded with a broad list of solutions and conducted a pilot test of the two finalists. The winning solution featured interactive flat panels by BenQ, whose innovative BenQ Board interactive whiteboards are especially well-suited for today's educational environment.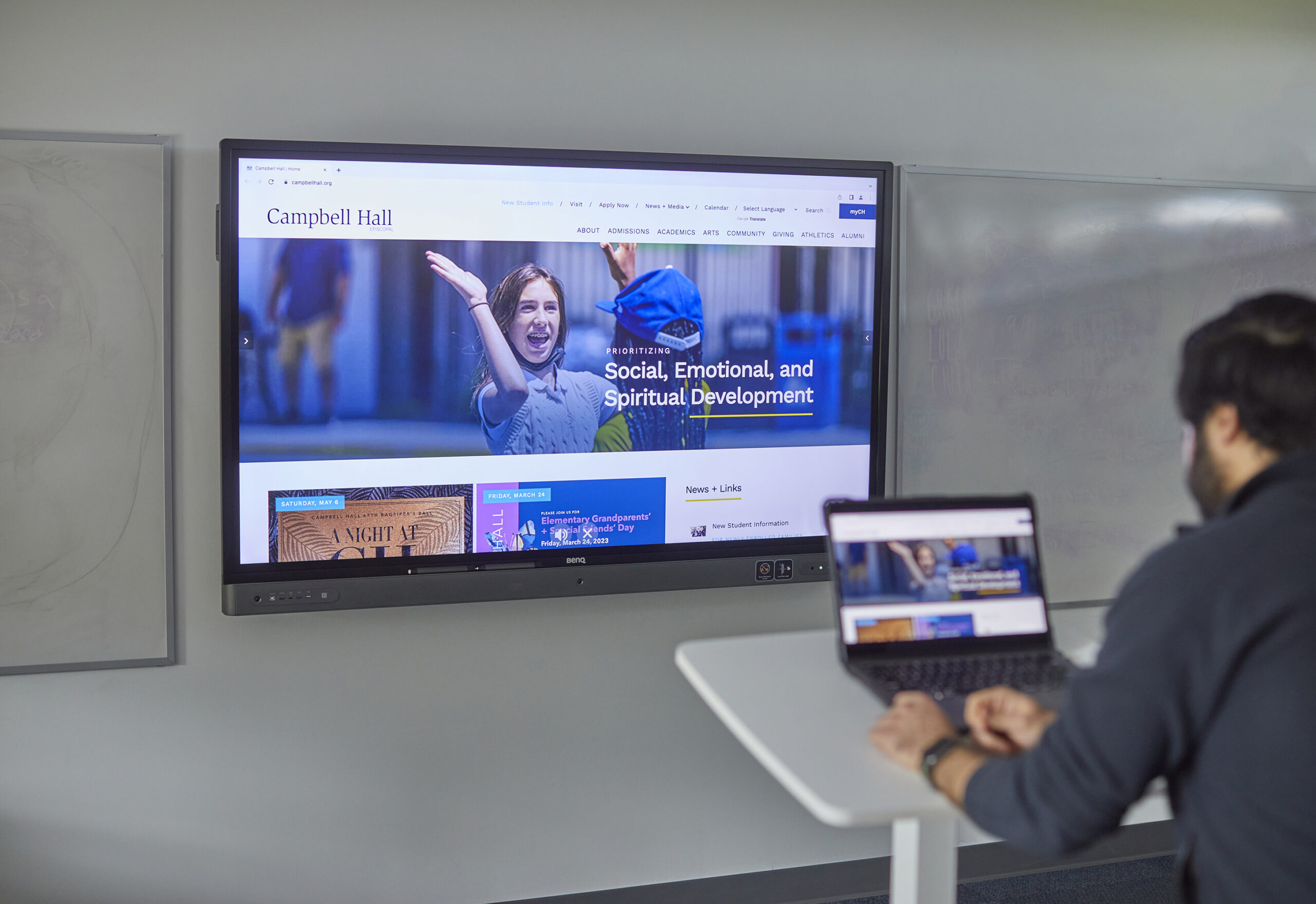 Situation
Exacting standards for education – and the technology that enables it.
Well-known for its innovative, research-based approach to learning, Campbell Hall, an independent K-12 day school in Studio City, California, embraces educational technology as a tool to advance cross-curricular, inquiry-based problem solving and discovery. It's a philosophy rooted in the 500-year history of Episcopal education and enabled via a coordinated and comprehensive pedagogical strategy that enables students to explore their potential and to learn and grow in an environment dedicated to academic excellence.
The school advances its mission with a continuously evolving, technology-enabled curriculum whose course offerings range from engineering research projects to animation, television production and foreign language study. It's an ambitious undertaking, one that requires classroom technology solutions that are as flexible as they are hard-working and as easy for instructors to operate as they are for Campbell Hall's 1,200 students to navigate.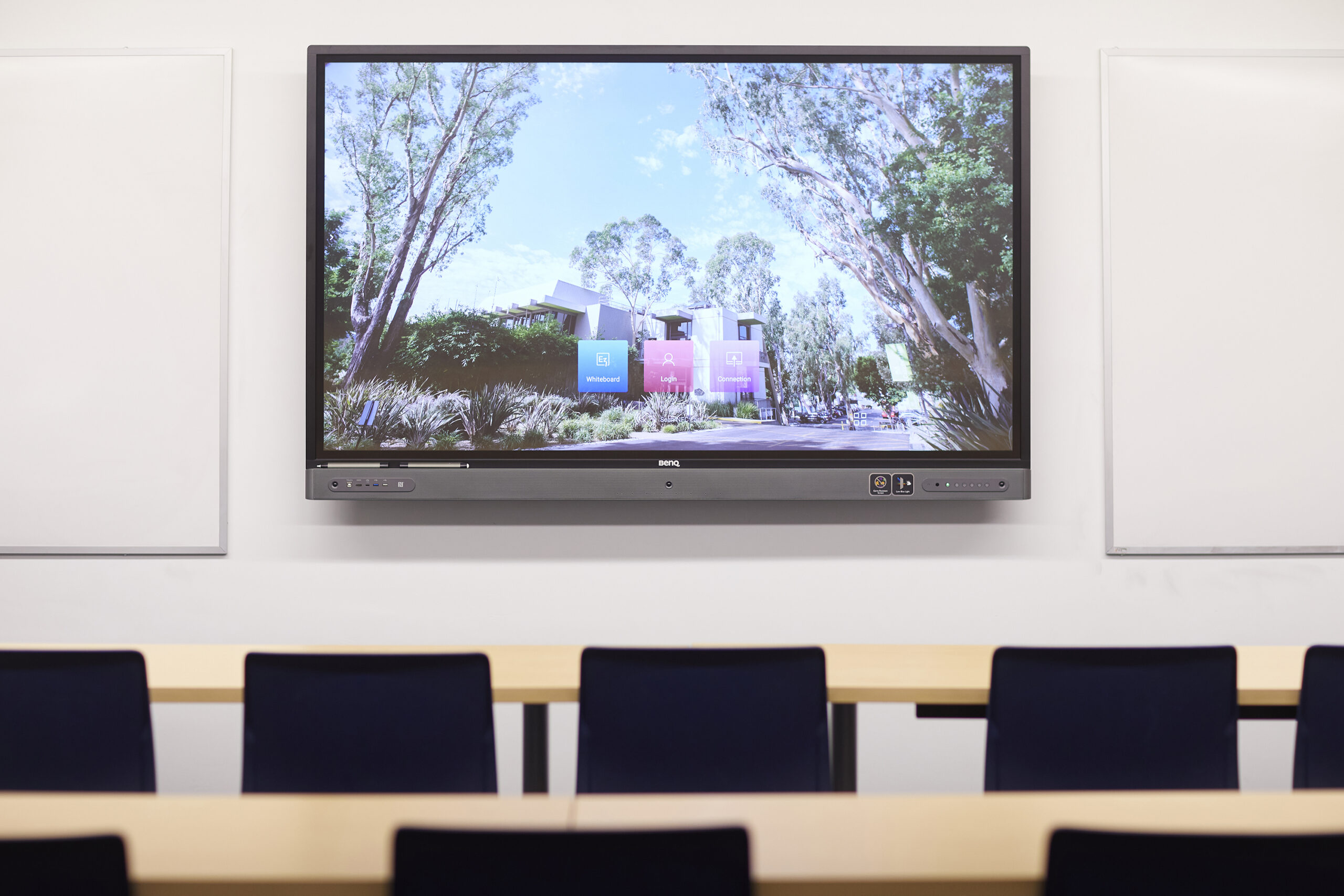 Challenge
A solution for all stakeholders.
Moving proactively to stay ahead of the technology curve, school administrators asked ClearTech to recommend and implement a campus-wide solution for classroom upgrades.
Step one involved in-depth discovery involving faculty, administration, facility managers and IT support staff. "Campbell Hall has a distinctive culture that places a high priority on enabling unfettered learning," says Brian Reilly, ClearTech's vice president of business development. At the same time, the school was also sensitive to a number of additional issues, including:
Budget. Very few educational institutions have resources to lavish on technology, and Campbell Hall is no different. "The school needed a uniform, scalable, standards-based classroom technology solution that was affordable both to integrate and to maintain, service and support," says Reilly. "Durability was important, along with strong warranty coverage and easy servicing and repair."
Timing. One thing all schools have in common is the high utilization rate of their technology infrastructure. During the school year, classes are typically held all day, every day, and downtime can disrupt everything from space utilization to the academic calendar. That leaves a relatively narrow window of time to perform technology upgrades – typically during the summer months. As a result, Campbell Hall would need a solution, and integration partner, that could be counted on for on-time delivery and rapid implementation. In this case, the timeline was further constrained by the need to time the integration to other classroom construction and infrastructure work being performed in various Campbell Hall learning environments.
Safety. This is an important concern in the pandemic era. Devices such as monitors, switches and controllers are handled by a wide range of people and can become vectors for disease transmission. For the sake of students and staff alike, Campbell Hall wanted its new classroom technology solution to hinder the spread of contagious viruses and bacteria.
Flexibility and ease of use. The school needed a technology solution that accommodated a wide range of users, some of them technology savvy, others reluctant to embrace the teaching tools of the digital era. Moreover, the solution would have to allow for the easy relocation of classes from one room to another. That meant enabling instructors to provide the same technology experience in one room as they could in another.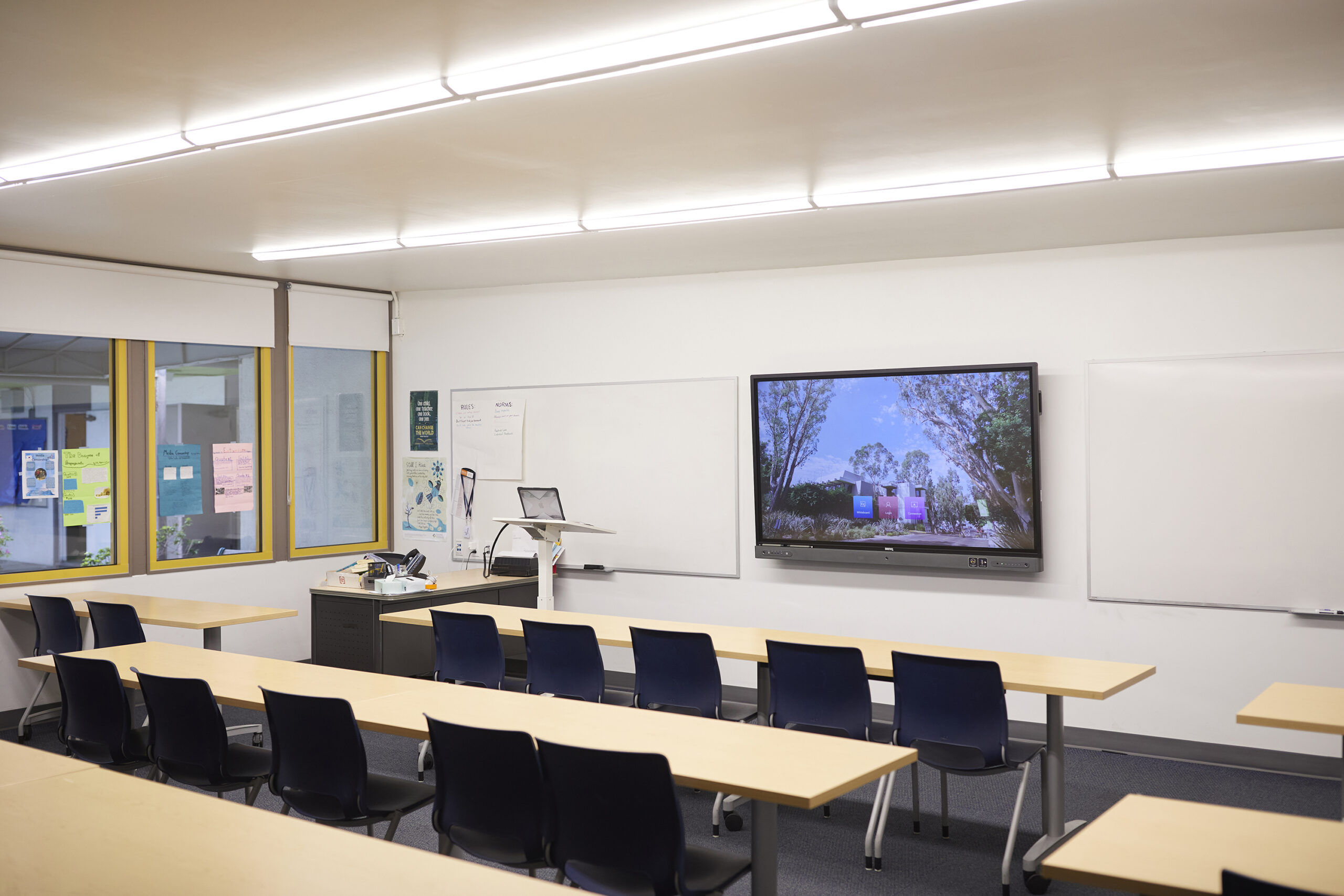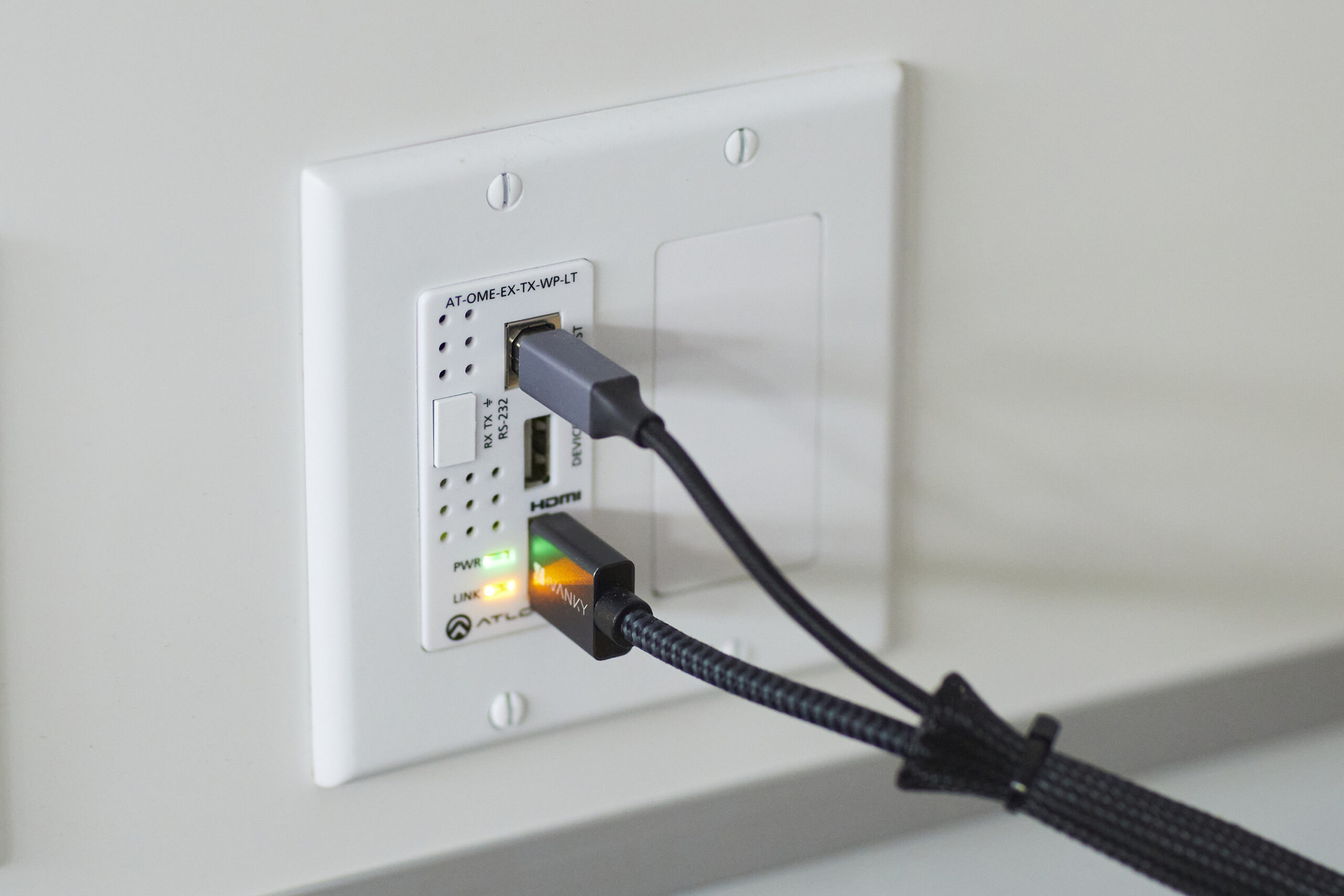 "Add everything up, and what might seem like a relatively straightforward project became a very exacting one," adds Reilly. "For Campbell Hall to realize the ROI they expected from this series of classroom upgrades, they needed both the right technology solution and the right partner to execute and support it."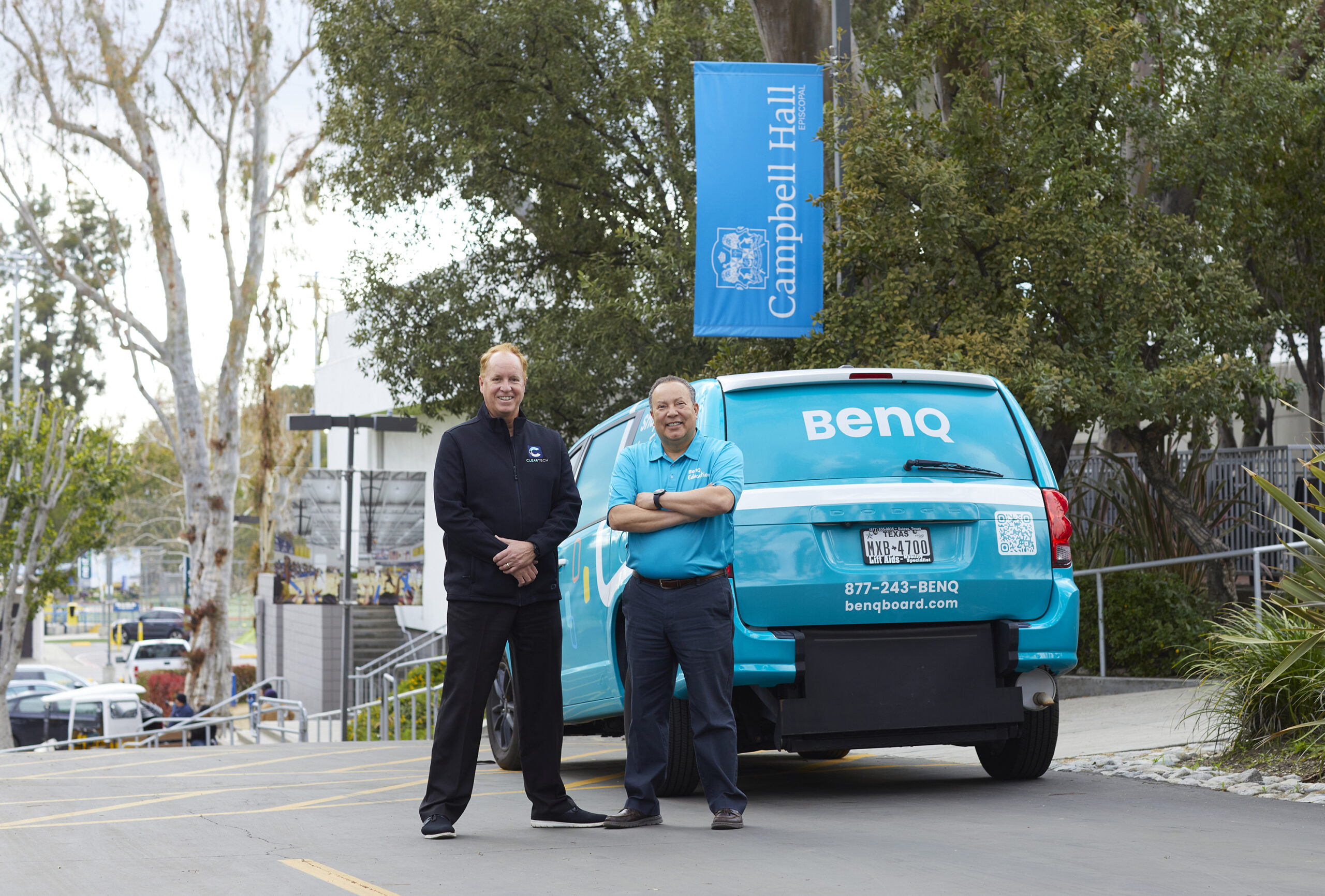 Solution
Giving Campbell Hall a classroom overachiever.
Having achieved a clear understanding of Campbell Hall's requirements, Reilly and the ClearTech design and engineering team led by CTO Joe Perez and lead Solutions Architect Max Brown subsequently provided a range of classroom technology solutions for the client to react to. Following their guidance, Campbell Hall quickly narrowed down the list to two contenders – one a solution centered around the BenQ Board 75" 4K UHD Educational Touchscreen LED Display, the other built around a Newline multi-touch interactive display solution.
To enable the client to make an informed decision, ClearTech piloted both solutions in two separate classrooms. Over two weeks, a range of Campbell Hall instructors used the systems under normal classroom conditions.
"BenQ was the clear winner, for a number of reasons," says Reilly. Among the factors that swung the decision in favor of the BenQ Board RP7503 Pro Series Education Display:
Protection of student and teacher health. "The BenQ Board is truly state-of-the-art in this regard. Everything is protected with a germ-resistant coating – the same one used in operating rooms," explains Reilly. "At a time when COVID, the flu virus, RSV and other bugs are running rampant, the BenQ Boards are hostile territory for disease transmission. The system even includes a built-in air ionizer."
Accommodation of instructor's teaching styles. The BenQ Boards' Android operating system connects with a wide range of devices commonly used in classrooms, including iPads, Chromebooks, laptops and phones. "You can access all the system's capabilities using whatever you're comfortable with, without being hostage to a mess of cables or a bunch of downloads," says Reilly. "BenQ really is a master of wireless connectivity in education settings."
No hidden costs. Lots of systems promise ease of use and flexibility, but if you take a closer look, that convenience comes at a price, usually in the form of yearly subscription fees for proprietary software needed to unlock the system's full capabilities. "BenQ meets the teachers where they're at – with no subscription fees, no software that has to be purchased every year. Whiteboarding is built in. So is recording. Teachers simply create an account that follows them from device to device. It's all on their LMS platform. And one-tap NFC login enables you to instantly load lesson materials," says Reilly. "This is great for roving teachers – which are quite common, especially in K-5. Now they can walk into any room on campus, tap into the board, and access their Google Drive, their OneNote, and all their personalizations."
Great warranty coverage. BenQ provided a 5-year warranty vs. the typical 3-year offering. ClearTech separately contracted with Campbell Hall for comprehensive service and support. Campbell Hall even purchased an additional display which ClearTech keeps in inventory to maintain educational continuity should an installed device need to be removed for repair.
Availability of inventory. "This was a big item in BenQ's 'plus column,'" says Reilly. "They've done a great job of navigating all these landmines and issues that other companies have encountered. Their ability to forecast and delivery on inventory enables us at ClearTech to hit our target dates and coordinate with all the other work we have to do. That kind of predictability and stability is gold."
Result
"Enabling unfettered learning."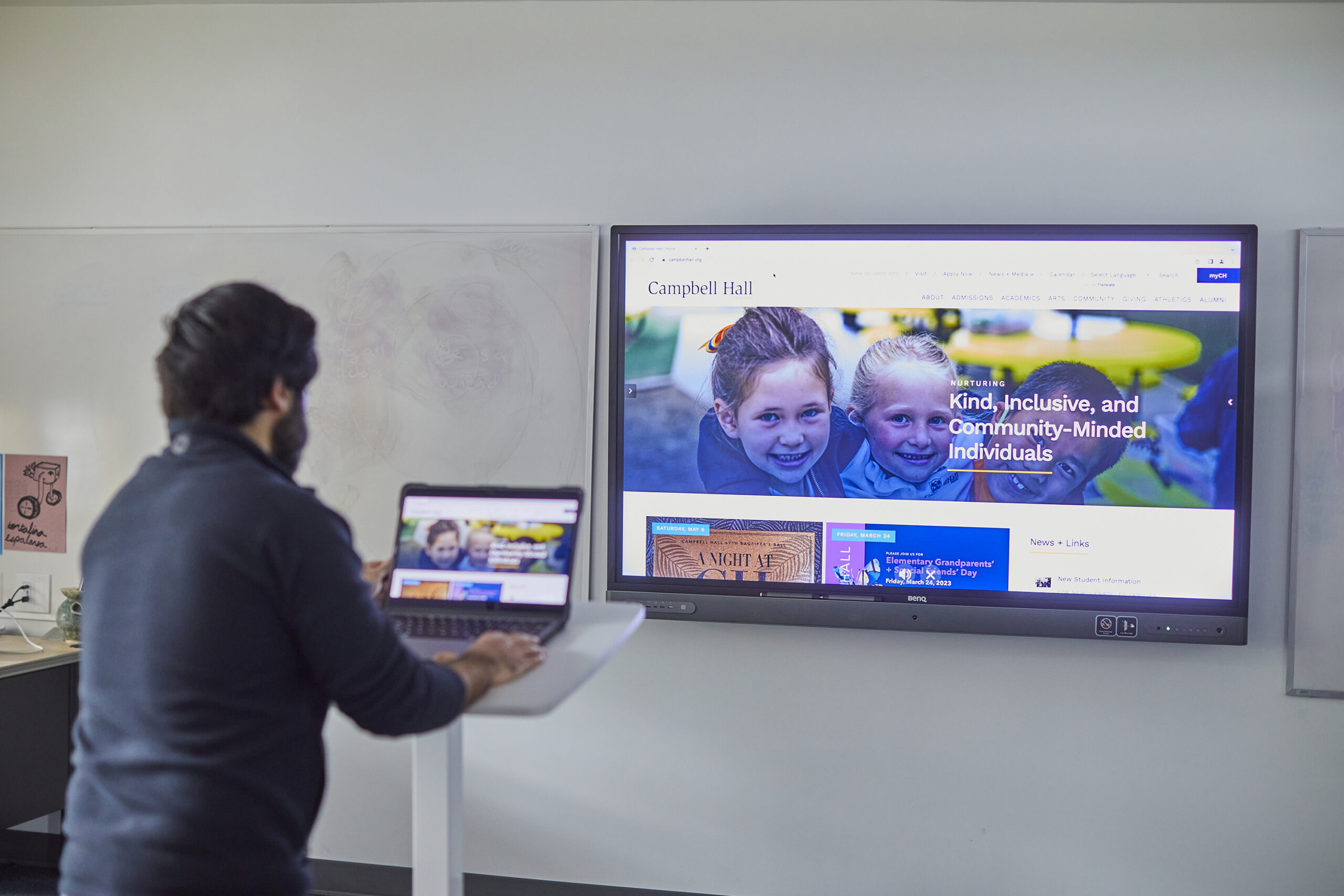 "Campbell Hall has high expectations, and so do its students," explains Reilly. "These kids – and many of their parents – are digital natives. Most of them use leading-edge technology at home and in mobile settings, and that's what they expect from their school.
"Now, several months after the conclusion of Phase I, we've gotten tremendously positive feedback from staff, students and administrators. Teachers tell us that the BenQ Board offering is far superior to anything they've worked with in the past."
Reilly attributes the positive outcome to one of ClearTech's key strengths: "We really listened to the client. We got to know them, and we gave them what they needed. The key was to spend sufficient time with instructors to understand their teaching styles, familiarize ourselves with their curricula, and fundamentally get to know the space. That provided the foundation for delivering a solution that was both truly interactive and extremely easy to implement and operate. Tech is changing all the time, so we built a system that lets teachers work in whatever platform they like. Consequently, they have the freedom to focus on pedagogy rather than technology."