Western University College of Dental Medicine
May 2023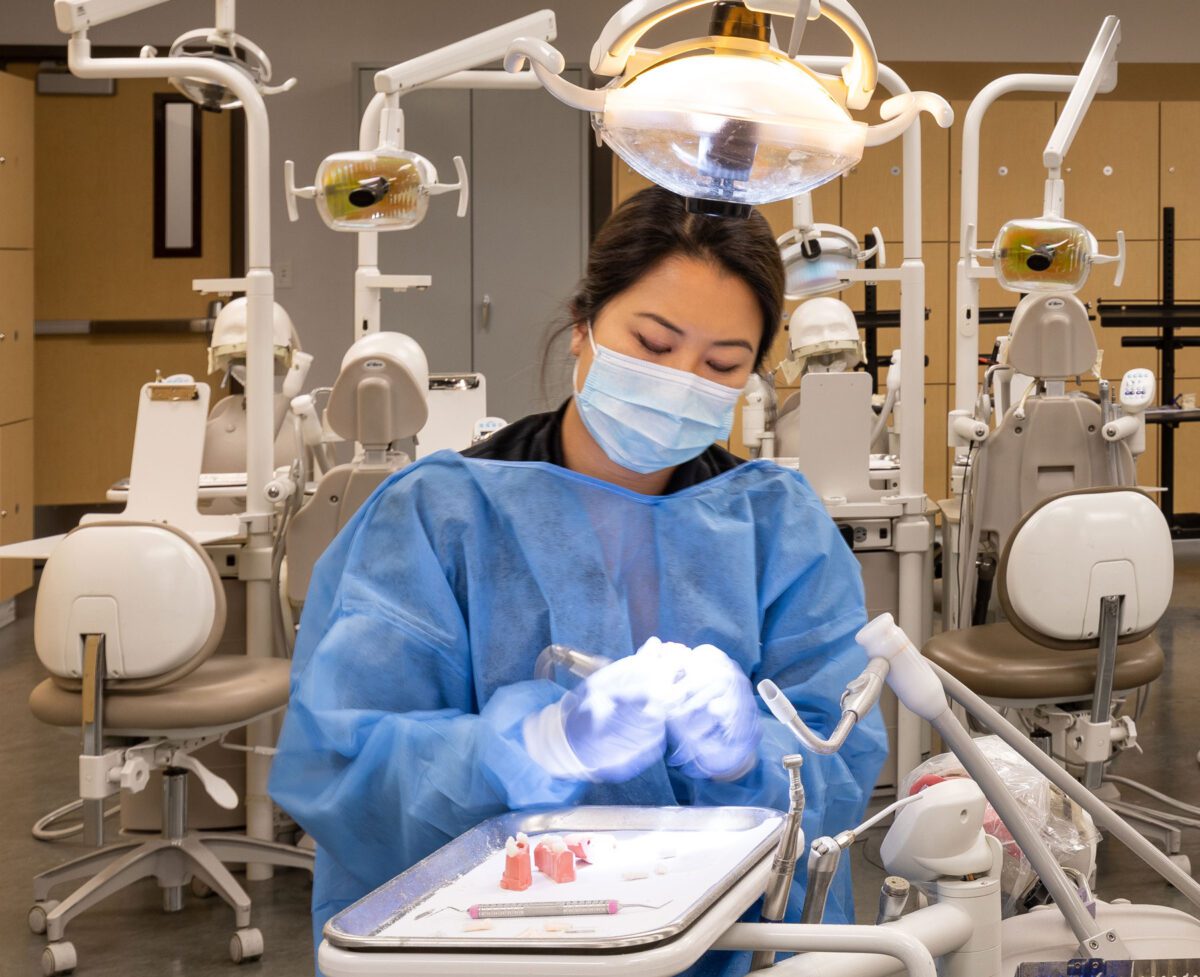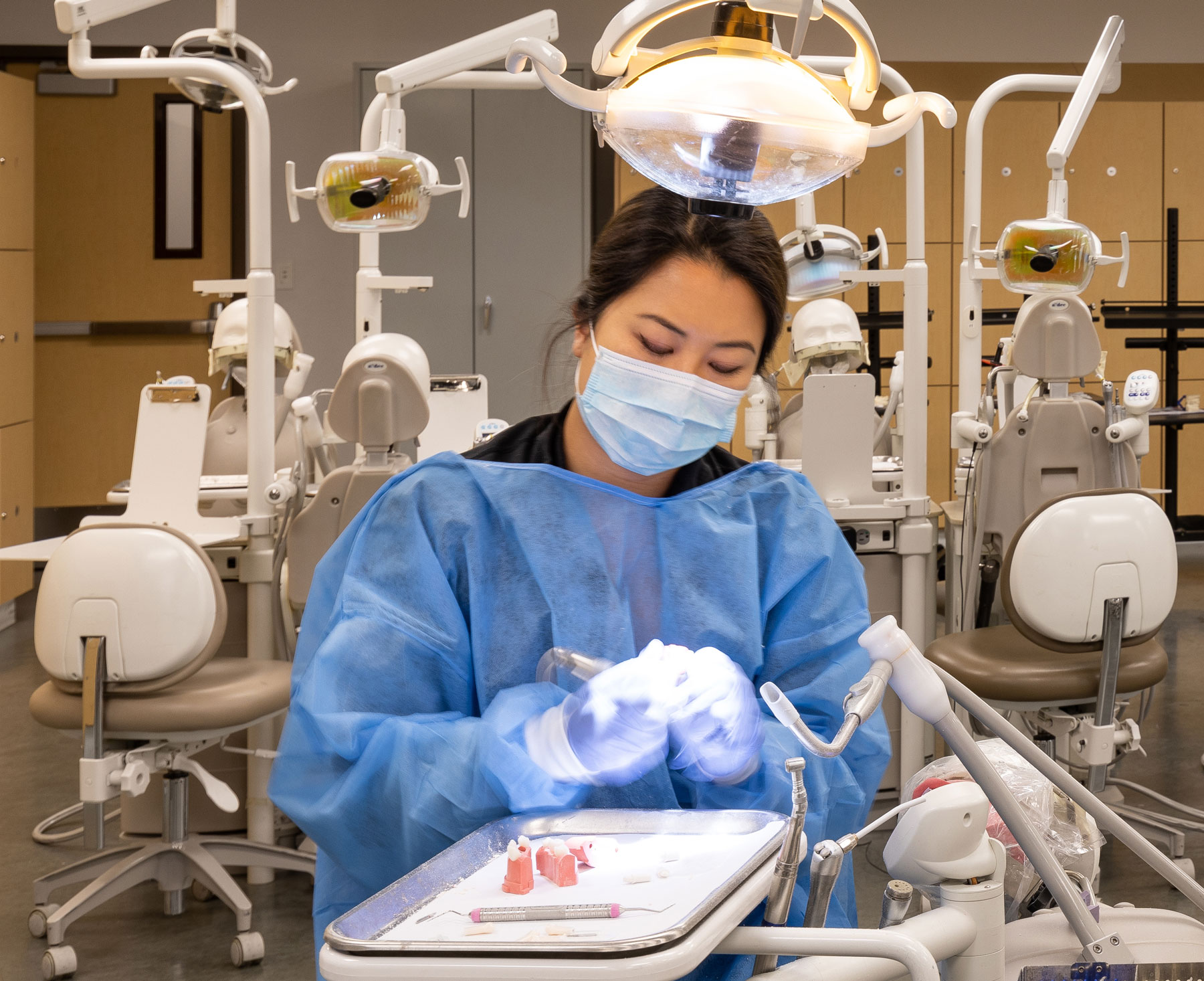 Case Study
Western University College of Dental Medicine
Dental Simulation Lab
To stay on the leading edge of dental training, Western University invested in a total overhaul of its Dental Simulation Lab. ClearTech provided the AV integration for this next-generation facility.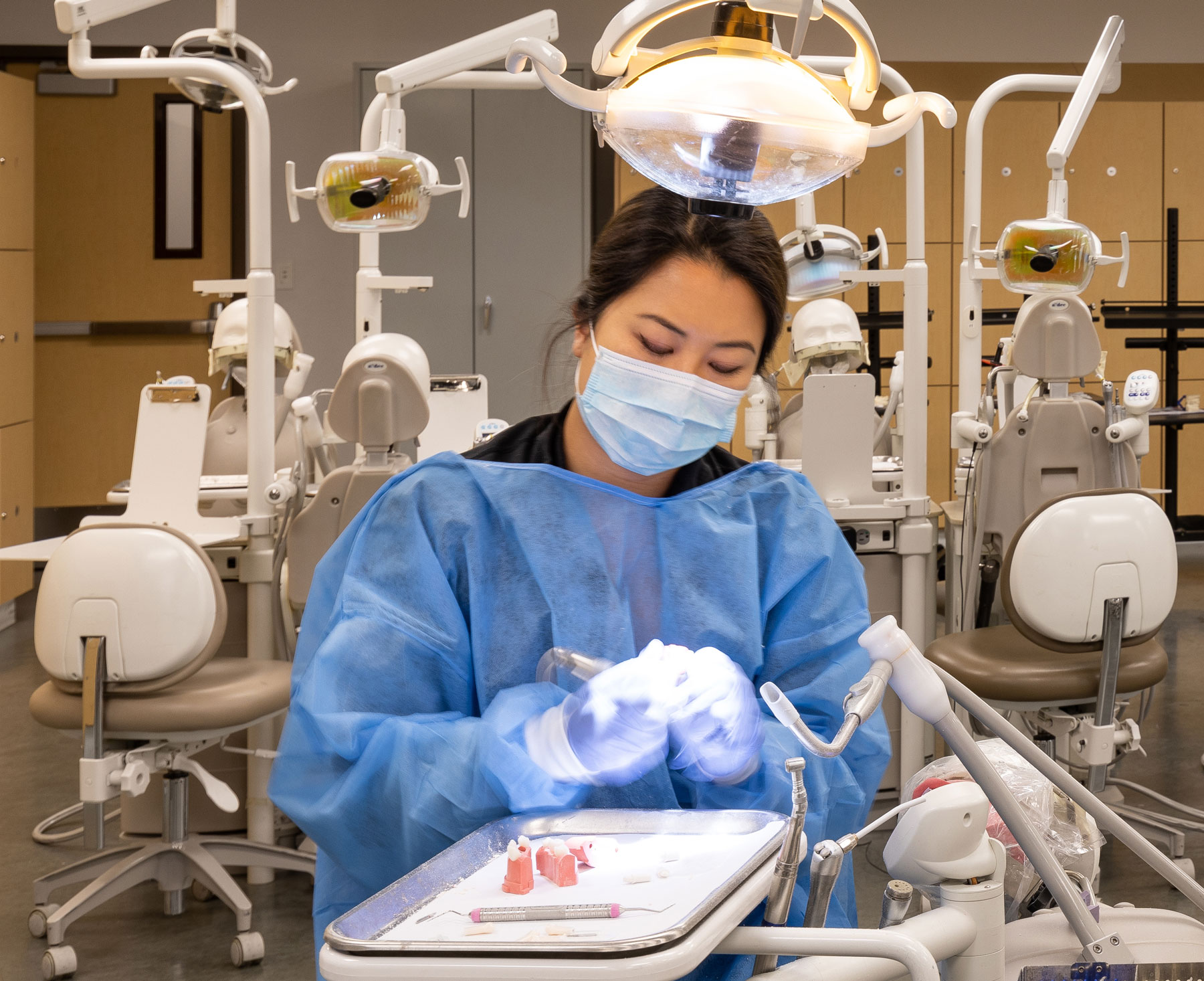 Challenge
Advancing a "hybrid curriculum."
Anyone who's gone under the drill will agree: the more training dentists receive before treating real patients, the better.
A round of applause, then, for Western University's Dental Simulation Lab, which asked ClearTech to provide the AV technology necessary to train dentists more effectively than ever before.
The existing Dental Simulation Lab had clear shortcomings, among them low-resolution monitors that were incapable of providing the detail and color accuracy students needed. Equipment also took up valuable space. Moreover, an inability to record and stream lectures and simulation sessions made it harder for students to access information critical to their studies.
To remain at the forefront of dental education, Western University introduced a new "hybrid" curriculum that combined hands-on instruction with access to online resources in a methodology tailored to today's digital learners. Our job: to bring the facility up to today's technology standards and ensure consistent, reliable AV performance in a high-demand environment.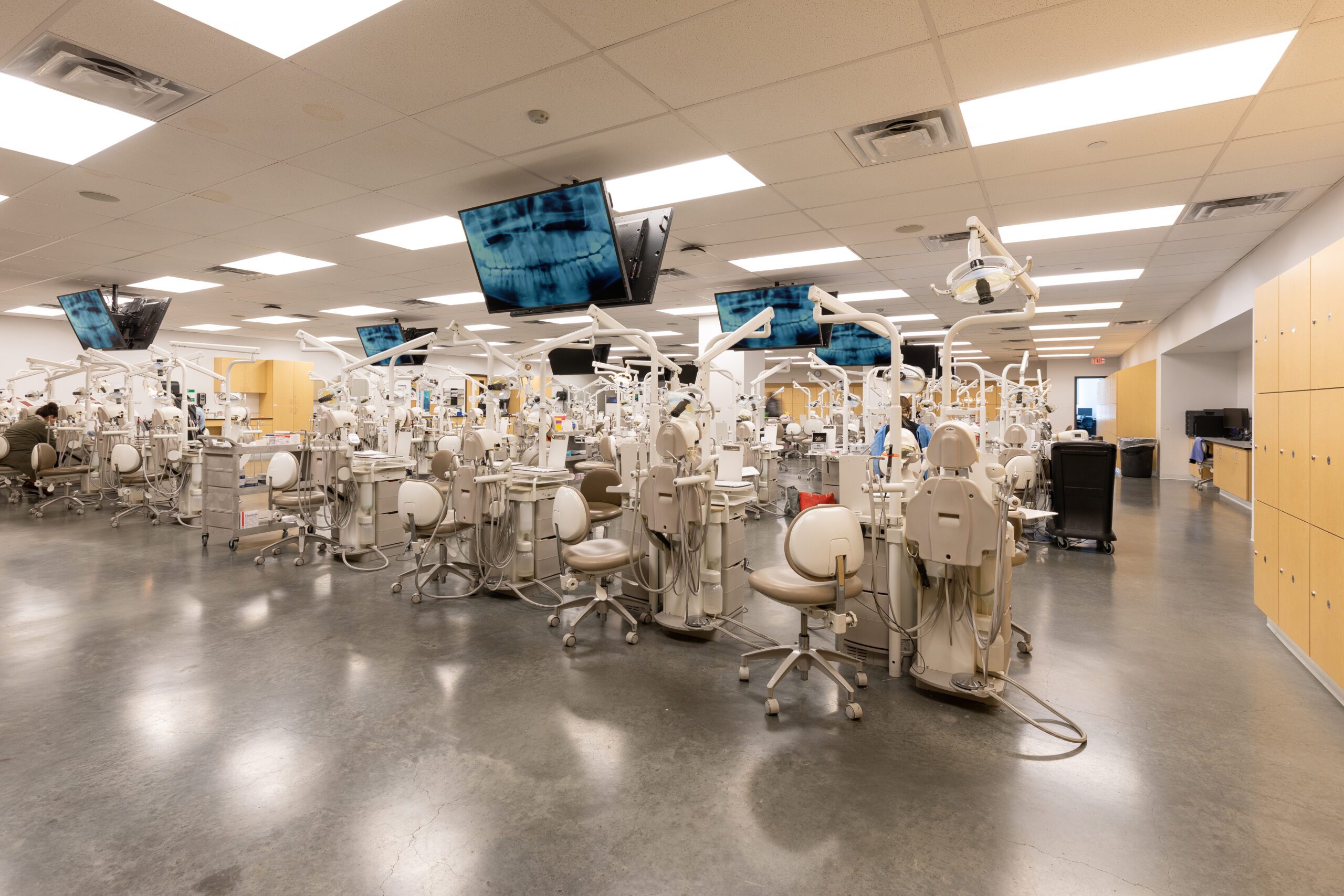 Solution
A real advance in dental simulation.
As part of the school's hybrid curriculum, two-and-a-half years of lectures and simulation sessions were converted into an online format. Says Sandra Farah-Franco, DDS, MS of the College of Dental Medicine (CDM): "Sometimes we show videos in the Sim Lab. Then, the students get together, usually in eight small groups with eight faculty [for discussion]. We have several faculty demonstrate the procedures that were described in the online platform. Then, right then and there, we're also recording the demonstration and feeding it right back for the student to access."
Since students learn at various rates, on-demand information access is critically important. Within the Sim Lab, there are twenty Ultra-HD NEC 55-inch flat-panel LED-backlit displays, designed for 24/7 operation with reliable color reproduction of 10 bits or more. Suspended above the student stations in pairs, they're strategically placed so that all students can view one or more displays.
"The NECs were selected for their reliability to reproduce colors more accurately than full-HD or other ultra-HD professional displays," said ClearTech CEO Joe Perez. "They also provide great viewing angles for students, which really helped with the selected placement of the displays. The NECs offer full control of color, brightness and gamma, which was helpful as well."
Before the new AV integration, student stations were equipped with 5-inch individual computer monitors. Says Farah-Franco: "We were only able to feed one zone at a time, and the signal was not 4K. It wasn't even high definition, which was cumbersome because intra-orally in dentistry, you have to have varying shades of white. So the resolution and the ability to show the differences was not there."
The ClearTech solution had another advantage, too. "The new location of the large monitors really opens up the room visually," says Steve Friedrichsen, DDS, Professor and Dean at the College of Dental Medicine. "The previous monitors were really like mini walls between the various units. I think it has improved communication and socialization."
"We were able to work with [faculty member Dr. Brian Chui, DDS), who came up with the graphical user interface that would make it easier to use and makes perfect sense from a user/instructor perspective," said Perez. "I worked on product selection, the number of sources and displays to fit the budget, as well as system schematics. [ClearTech Senior System Engineer] Ernie Luna did the commissioning and field engineering on this project and put our design into a functional system."
The new integration also met Western University's mandate for flexibility and scalability. "The equipment was designed so that it would be future-proofed for the next five to 10 years," said Chui, who added, "If we wanted to, we could have 10 different sources running all at once in the room, so there are multiple possibilities of teaching multiple topics all at once."
Flexibility and future expansion were priorities for the AV design in the Sim Lab. ClearTech also used Crestron NVX as a central element of the integration. "It was a way of future-proofing the system," said ClearTech founder Christina De Bono. "With the number of sources and destinations, it ended up being a much more cost-effective solution. Installing AV-over-IP was a change from our traditional systems."
Also new to the integration was a Global A-Series dental microscope with an output exceeding 100,000 lux. "The intraoral dental microscope has been around for a while," said Chui. "The new Global model allows us to magnify the smallest details. The microscope is mounted on a moveable arm, and the dentist positions the microscope to use for the procedure." An attached HD camera feeds camera images to the monitor arrays.
The camera is a PTZOptics model with pan/tilt/zoom functions. In addition, ClearTech provided two HDMI inputs for the client-furnished Dell 4K desktop PC and three HDMI inputs for laptop and auxiliary-type connectivity at the instructor's desk.
"The PTZ camera is used to record faculty as they're demonstrating the procedure, or for recording the actual procedure. So the PTZ is a very fancy webcam," said Chui. "There's also an Elmo 4K document camera for the instructor to do more wide-scale, wide-view demonstrations, such as drawings." An existing Mediasite room recorder/streamer enables students to review demonstrations later.
Supporting all the video is a new audio system with three-zone coverage in the Sim Lab and single-zone coverage in an adjoining support lab. Both rooms have their own wireless microphone for instructor presentations.
Within the Sim Lab, there are 20 JBL 26C ceiling speakers, and another 10 provide audio in the support lab. To ensure future flexibility, Perez spec'd Dante digital audio via Biamp DSP and a Yamaha digital amplifier. "The school's internal AV team upgraded the wireless microphone system, and ClearTech added a Shure antenna distribution system to allow presenters to be anyplace within the two rooms and have the signal be reliable."
For control and signal switching, "ClearTech installed AV-over-IP [infrastructure] in parallel to the client's network for the Crestron NVX and Dante systems only," explains Perez. "In the future, the NVX can be added to the school's network. NVX enables any/all sources to be routed to any/all displays" for optimal flexibility and scalability.
A 15.6-inch HD tabletop touchscreen in the main room and a five-inch wall-mounted touchscreen in the support lab – both programmed by ClearTech – provide complete AV control.
All technology decisions were driven by one overriding goal: to reinforce student's learning. To that end, ClearTech installed two additional features that were critical to the facility. The Mediasite room recorder/streamer recorded lectures and sessions, and Zoom videoconferencing allowed external viewers to be participants. In addition, Crestron Fusion software was incorporated within the system to provide remote monitoring and control, and to provide critical data on the use of AV components in the room.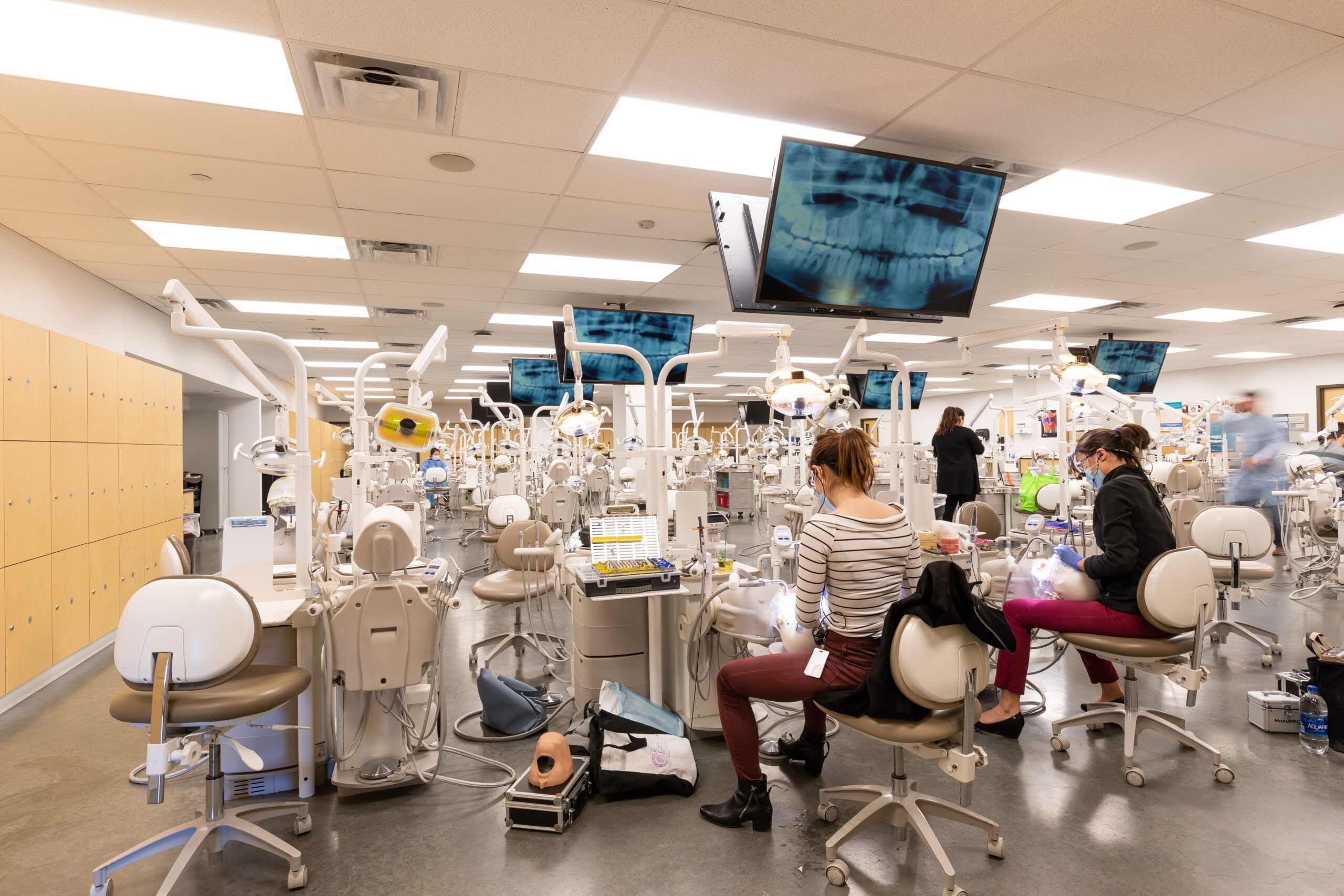 Outcome
A leap forward.
From the standpoint of budget, timeline, and functionality, the AV integration of the Dental Sim Lab has been labeled a resounding success. But those measures only tell part of the story. For students, the Sim Lab provides an educational experience tailored to the way they absorb information. And for Western University itself, the integration marks a significant step forward to achieving "digital maturity" as an institution.
In an era of rapid technological transformation, organizations don't become digitally adept simply by purchasing the latest gear. Strategy, talent management, organizational structure and leadership have to transform as well.
The AV integration of the Dental Sim Lab marked an extraordinarily close collaboration between ClearTech and client stakeholders – one informed at every turn by strategy, guided by the latest thinking, and unwavering in its focus on student and faculty needs. "We talk a lot about the future of learning," says Christina De Bono. "Well, you can see it right now at Western University's College of Dental Medicine."