Manulife Plaza 3rd Floor Conference Facility
August 2023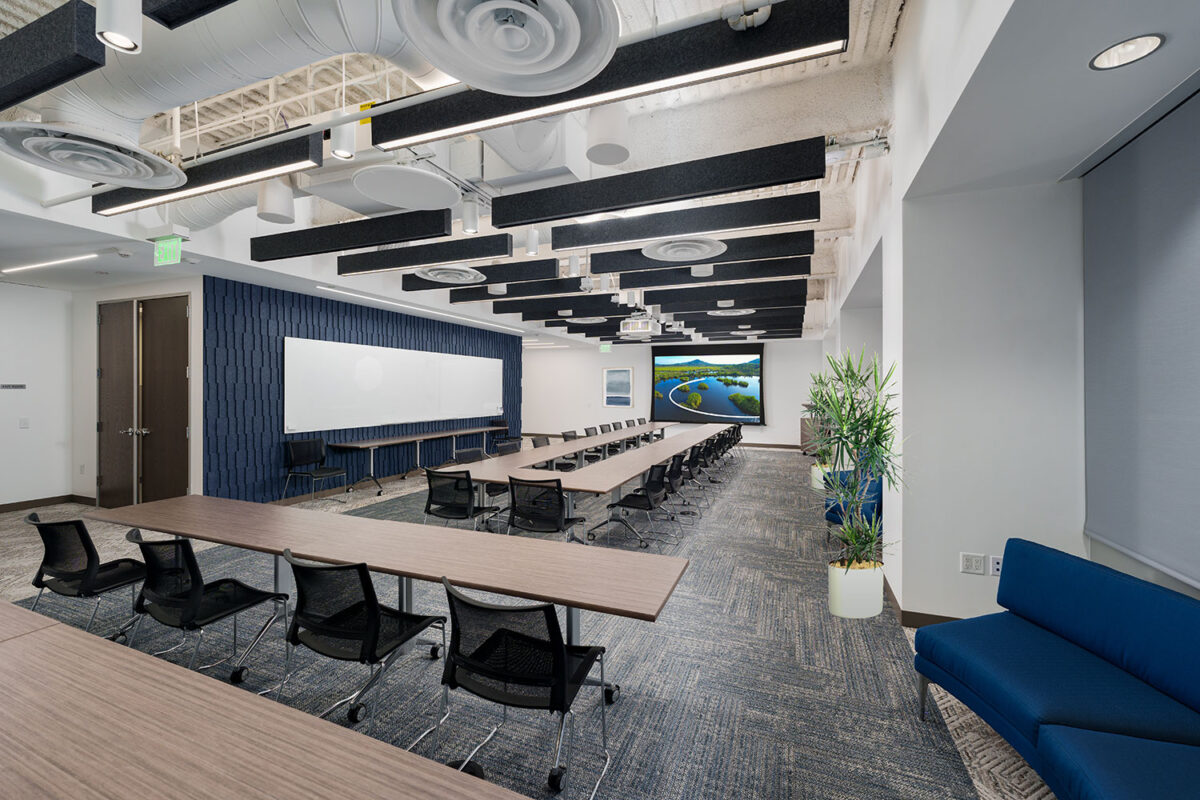 Case Study
Manulife Plaza 3rd Floor
Conference Facility
An Essential Tenant Amenity.
Opened in 1982, the 21-story Manulife Plaza in in the Los Angeles Financial District, boasts nearly 450,000 sq. ft. of Class A office space and just over 2,200 sq. ft. of Retail. Reflecting the needs of a new generation of tenants, the building managers, Avison Young, engaged Sherman Design Group to create a state-of-the-art conferencing facility for all tenants to use. Design Principal Rayne Sherman, along with Project Manager Vicki Phaisouphanh and team, chose ClearTech to make their vision a reality.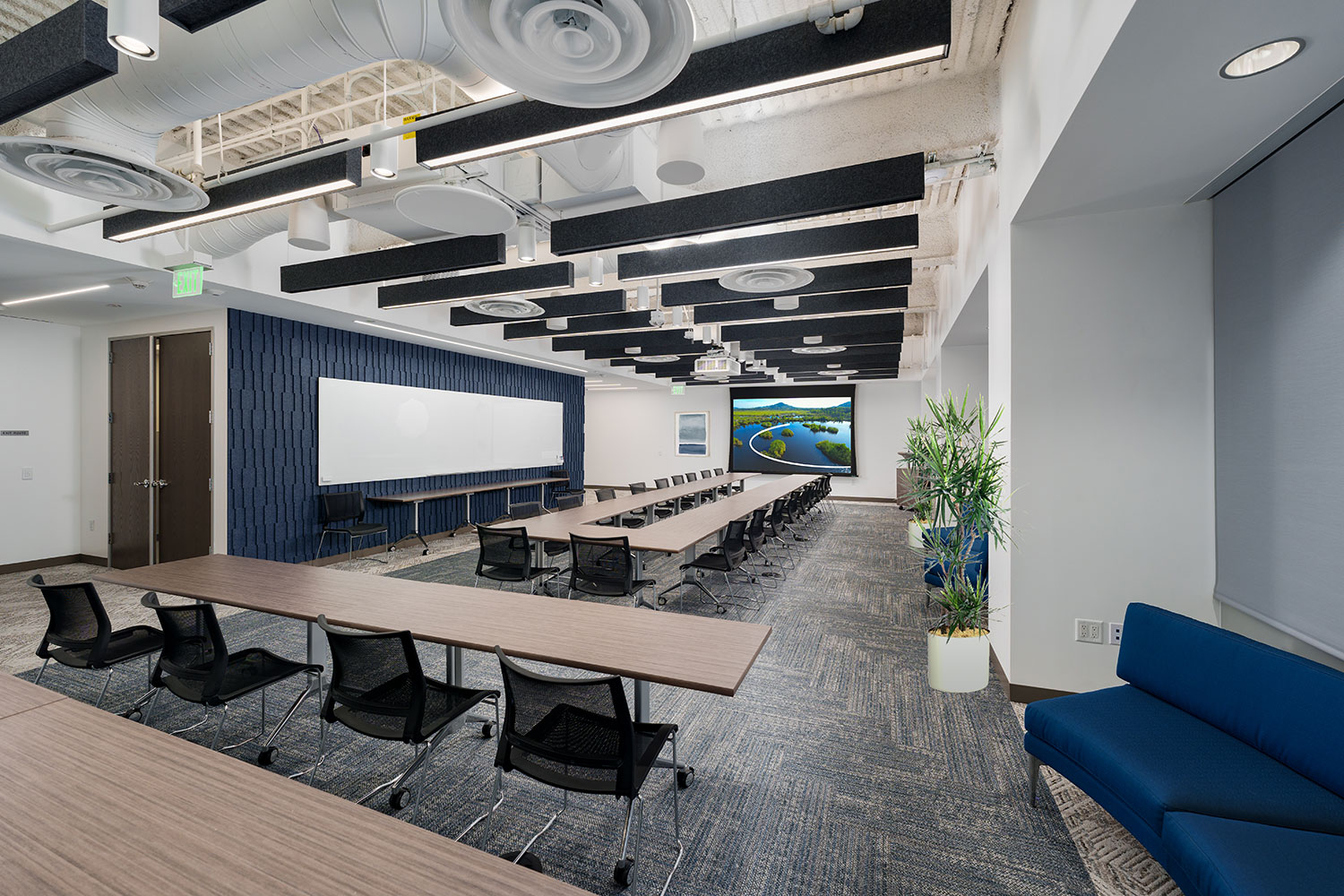 Situation
A mission to add value and utility
In the hybrid era, building owners and managers have had to reimagine office spaces. The goal: to appeal to tenants who are seeking smaller, more flexible and amenity-rich workplaces that can accommodate the needs of a workforce that fluctuates in size, while enabling easy collaboration across multiple locations. Conversations with building tenants revealed strong interest in a shared conferencing and collaboration facility – one that would be technologically advanced, easy-to-use, and multi-functional for uses including video conferencing, training, and business and social gatherings.
Says building manager Samuel Kachikian of Avison Young, "Facilities of this nature are in demand. Tenants are giving back space, but they need a place to gather. If there's a central communal facility, they don't have to build their own conference room. This enables them to be more targeted in their use of space, and there's both value and utility in that."
Rayne Sherman adds, "Manulife Plaza heard what its tenants were saying and asked us to create a flexible conferencing / meeting / social area that wouldn't be merely functional, but welcoming and aesthetically pleasing."
An ideal site was available on the third floor. Boasting a rectangular footprint with a bank of windows and about 2,150 sq. ft. of usable space, it was easily approachable via elevators that connect to underground parking and also by a northside skybridge that connects to the Bonaventure and other buildings, as well as a westside entrance that brings people into a highly trafficked corridor.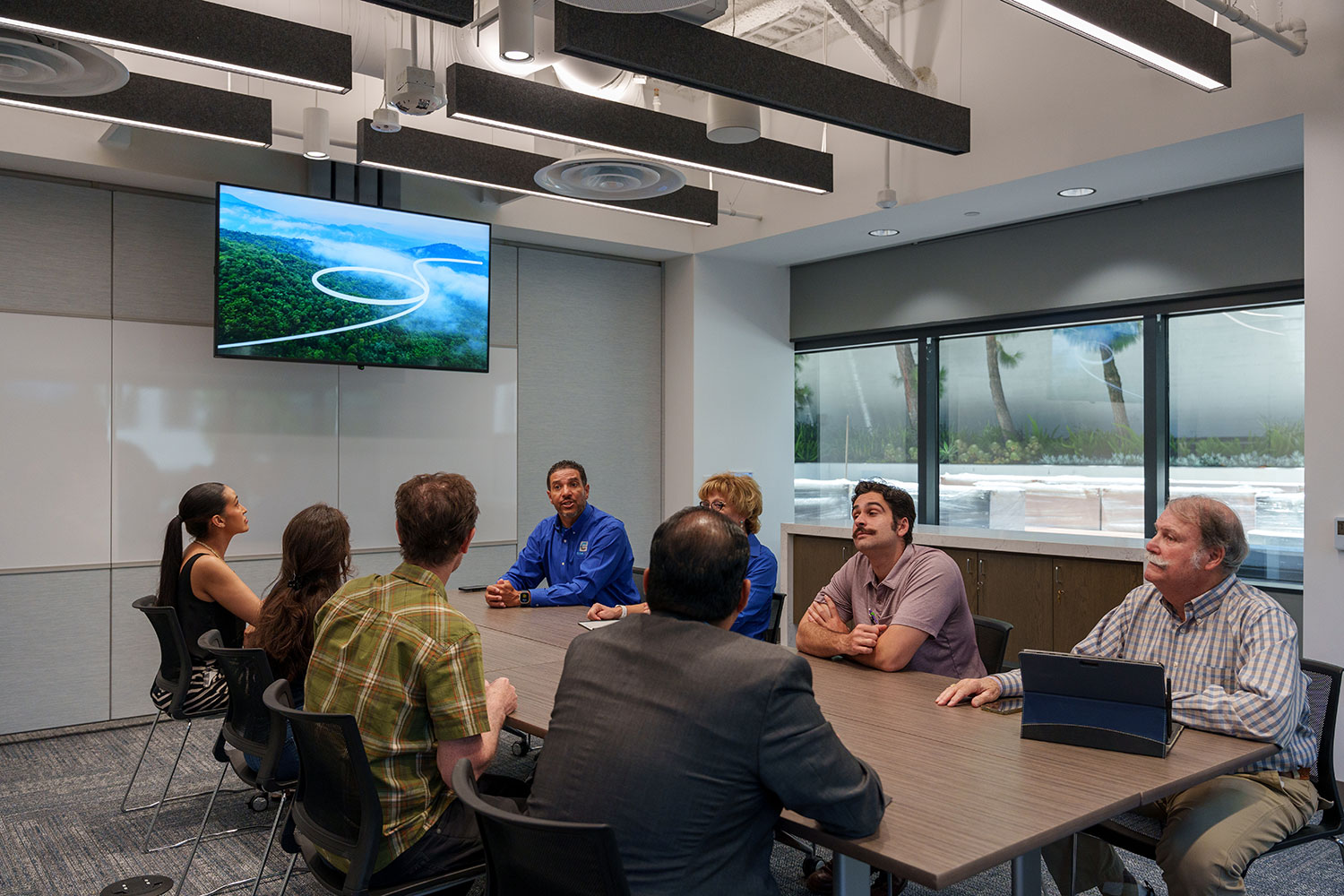 Challenge
Maximizing usability in a "boutique" space
The 3rd floor conference room needed to offer robust functionality and flexibility relative to its size. Moreover, the location in a highly visible part of the building made it a marquee amenity for Manulife Plaza. "It had to feel right and look great," says Sherman. Among the considerations in creating the conference center: • Budget. In a highly competitive commercial real estate market – and one that is still recovering from the pandemic – building operators are more cost-conscious than ever. While the mandate was to create a space that would delight current tenants and attract prospective ones, Sherman Design and ClearTech understood the need to provide strong value for the dollar by designing an environment that was economical both to build and operate without sacrificing functionality and aesthetics.
• Flexibility. The space needed to accommodate a wide range of uses by groups of varying sizes. That meant creating an environment that was highly configurable and easily divisible. One day the space might be configured in a theater or auditorium layout. Subsequently it might be used for a classroom, board meeting, townhall gathering or office celebration.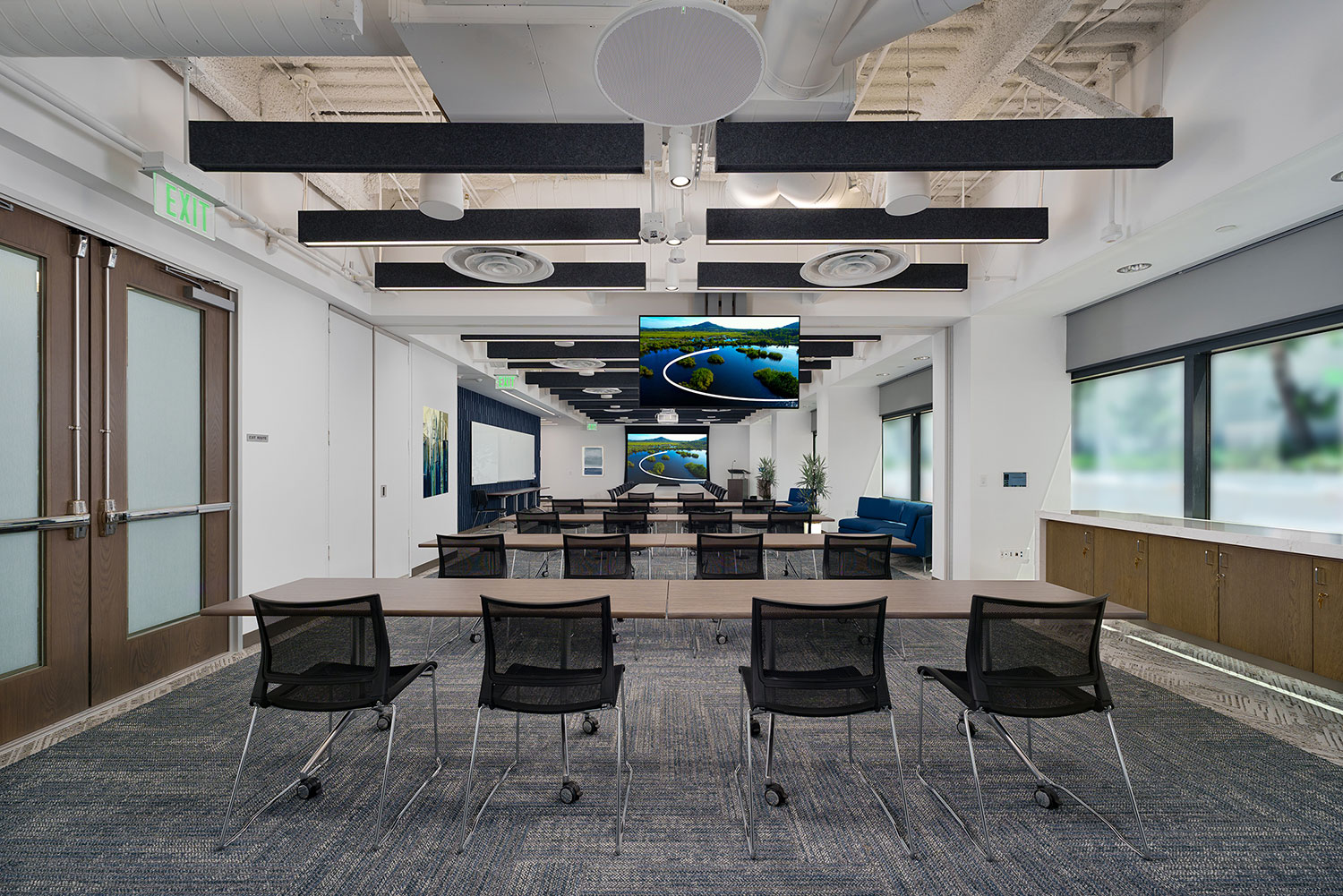 • Functionality. Clear imaging, high-quality sound, and reliable performance were all essential. But just as important for ClearTech was ease of use. "It was important to remember that this space would be used by a lot of people – some technologically savvy, others not. A certain percentage would use the space often, others maybe just once a year," said senior account manager Maxwell Brown of ClearTech. "Utilization is a key metric for ROI, and we needed to provide a solution that eliminated or minimized all barriers to use."
• Aesthetics. Avison Young, property manager for Manulife Plaza, hired Sherman Design for a reason. Rayne Sherman's firm boasts an impressive portfolio of commercial spaces that are as stylish as they are functional. The goal for the 3rd floor conference facility was to create a simple, timeless design that impressed with its clean lines and seamless finishes, ease of use, and efficient space management, not only in the meeting environments, but in storage facilities, equipment room, catering kitchen and foyers. In many cases, aesthetics can be at odds with collaboration system performance, however. To realize its design vision for the conference facility without having to make tradeoffs in functionality, Sherman had to find the right technology partner.
"We chose ClearTech because we needed a technology-forward company that was also a proven collaborator with architects and designer," said Sherman.
Among the firms he considered, ClearTech also stood out for its willingness to take on a project of relatively modest size. "It can be difficult to find a partner that has the required level of talent, expertise and professionalism, but is also eager to take on what some might call a 'boutique project,'" says ClearTech CTO Joe Perez. "What made us so eager to work on the Manulife 3rd floor conference center was the quality of partners we had in Sherman Design and Avison Young. They were committed to delivering a great result, and their ambition fueled ours."
Solution
Executing on a well-articulated vision
To meet all project objectives, ClearTech, Sherman Design and general contractor Interscape Construction collaborated closely from the beginning. "Sometimes technology solution providers are brought in after key design decisions not only have been made, but are largely executed," says Perez. "Sherman Design had an extremely well-articulated vision for how they wanted this space to look and feel, and they brought us in early enough that we could provide our expertise when there was still time to make any tweaks the design might need for world-class collaboration functionality."
ClearTech and Sherman Design's partnership touched nearly every corner of the space, including:
• Conferencing Environments. With some 450 sq. ft devoted to infrastructure and other uses, approximately 1,700 sq. ft. remained for collaboration. Sherman designed the space to function as a single conferencing environment and to be divisible into two spaces by a foldable acoustic wall manufactured by Modernfold:
– Space A: 1,250 sq ft. This environment features a 150-inch ceiling-recessed screen used in conjunction with a projector that offered the requisite brightness and resolution to engage audience members even at the far side of the undivided room. This space also features a podium with a gooseneck mic, HDMI for presentation, and USB connections for cameras and audio.
– Space B: 450 sq ft. The challenge here was to provide a screen that meets the requirements for the smaller room yet would not interrupt sight lines for gatherings in the space's full 1,700 sq. ft. configuration. "Our solution was built around a high-resolution 65-inch display attached to a monitor lift that could make it disappear behind a ceiling soffit," says Brown. "We sourced a truly exceptional product from a Germany company called FlatLift. It's silent in operation and rock-solid in design."
• Audio Integration. The full space includes 16 loudspeakers, with an eight-channel microphone system encompassing ceiling microphones, the gooseneck microphone, lavalier microphones, and a handheld microphone. All microphone channels can be used simultaneously.
• Cameras. The conferencing facility includes two ceiling-mounted cameras and a portable PTZ camera on a tripod. When divided, Space B has one ceiling-mounted mic, and the other two are devoted to Space A. • Control System. A Crestron touchscreen controller and Creston AV control processor, programmed by ClearTech, enable easy room configuration. "When the room is divided, the touchscreens automatically switch controls into 'Divided Mode' via a sensor that detects whether the airwall is open or closed," says Brown. "Open the room back up, and those two controllers become synched."
• Acoustic Design. To ensure superior acoustic performance throughout the conferencing center, Sherman's design featured acoustical baffle lit fixtures and un-lit baffles by FineLite Lighting and acoustical wall panels by Kirei, along with the Modernfold acoustical folding wall.
• Room Aesthetics. "We wanted to give the room a straightforward, elegant, 'architec- tural' feel that was simple and efficient. We knew, too, that we wanted an open ceiling," says Sherman. "Initially we also designed the space to have a concrete floor, but to ensure acoustic performance ClearTech prevailed on us to go with carpet tiles." In conjunction with discreetly placed wall-mounted acoustic panels, the room retained the simple geometry Sherman envisioned while performing to the standards ClearTech had established for clarity in conferencing and collaboration. The overall duration of the project was about a year-and-a-half from inception to completion. The 3rd floor conferencing facility at Manulife Plaza went into operation in April 2023.
To preserve the architect's vision across the space, ClearTech integrated audio, video and lighting technology in close collaboration with Sherman Design.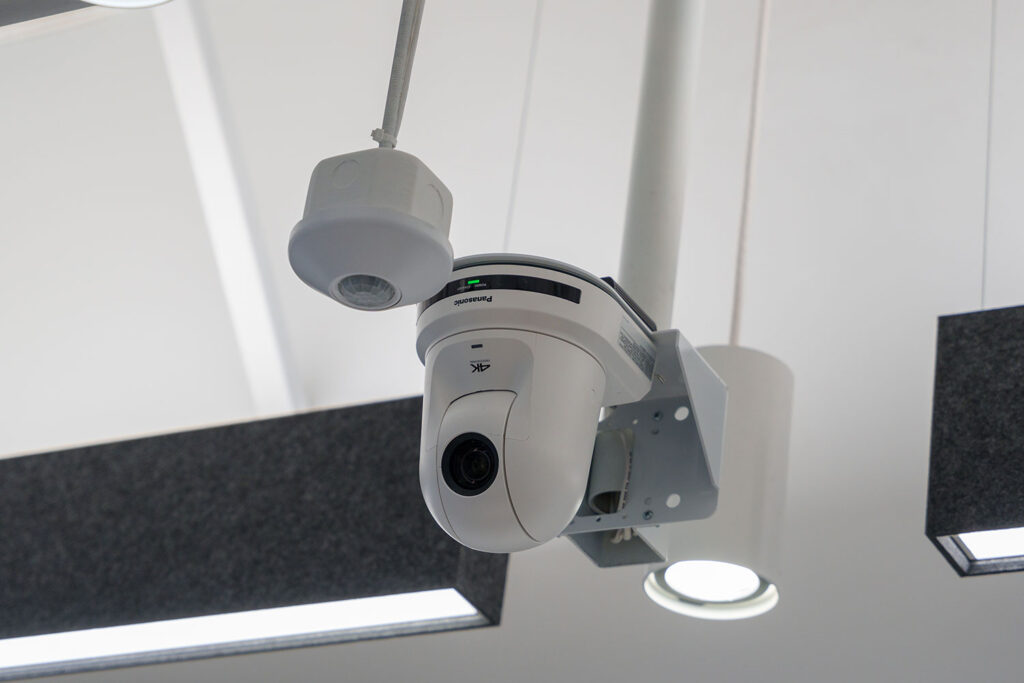 AV components were selected and integrated with a dual focus on performance and aesthetics.
Result
"It's been getting a lot of love"
"We are thrilled with how this project turned out," says building manager Samuel Kachikian of Avison Young. "Since the conference space became available for use, it's been getting a lot of love. In fact, Avison Young recently held our quarterly managers meeting in the facility, using the large projector screen, the podium mic and handheld mic for about 60-70 people."
In addition to integrating the space, ClearTech provided training for tenants, including IT staff and end users. "The training was really helpful," says Kachikian, "and we can always schedule a tech from ClearTech to be on site for big and important meetings. We're not worried about system performance because it was put together flawlessly, but it's nice to know ClearTech is there."
For Rayne Sherman, ClearTech proved indispensable to the project's success. "We gave them a number of challenges. The technology had to be changeable and flexible, easy to operate, and obviously we wanted the highest sound quality with easy interaction between the various parties. At the same time, we needed a partner who was committed to carrying out our design vision. The important thing is that ClearTech listens. They listen to what we as the designer had envisioned for what we wanted – meaning an open ceiling and a very organized overhead, which was painted white. ClearTech partnered with us and the various tradespeople to organize it all in a very clean grid. There's no hodgepodge.
"The other thing I'd say about ClearTech is that they didn't try to oversell stuff. They understood what had to be there, and they gave us exactly what we need: good quality, first-class AV that will last this owner for a long time."
Components
Projector: Panasonic PT-RCQ80WU7
Projection screen: Stewart Filmscreen Luxus
Flat panel: Panasonic TH-65SQE1W
Flat panel lift: Flatlift Pop-Down 1330
(2) PTZ Cameras, ceiling: Panasonic AW-UE40W
PTZ Camera, tripod: Panasonic AW-UE20K
Wireless microphone system (4 channel): Panasonic WX Series
Pendant speakers: Sonance PS-P63T WHITE
Amplifiers: LEA Connect 168D
Digital Signal Processors: Biamp TesiraForte DAN VT
AV-over-IP signal distribution: Purelink VIP-300H Series
USB-over-IP signal distribution: Crestron DM-NUX
Touchscreen Controllers: Crestron TSW-1070-W-S
AV Control Processor: Crestron AV4
Equipment Rack: Middle Atlantic ERK-3525-AV
(3) Ceiling microphone arrays: Shure MXA920W-R
Project Team
ClearTech AV Maxwell Brown – Sr. Account Manager
Avison Young Samuel Kachikian – Building Manager, Manulife Plaza
Sherman Design Rayne Sherman – Design Principal, Vicki Phaisouphanh – Project Manager
Interscape Construction Stephen S. Russell – President, Paul Peterson – Superintendent, Freddie Elenes – Project Manager
Photographer Zachary D. Stahl