Christina De Bono named to 2020 SCN Hall of Fame
January 2020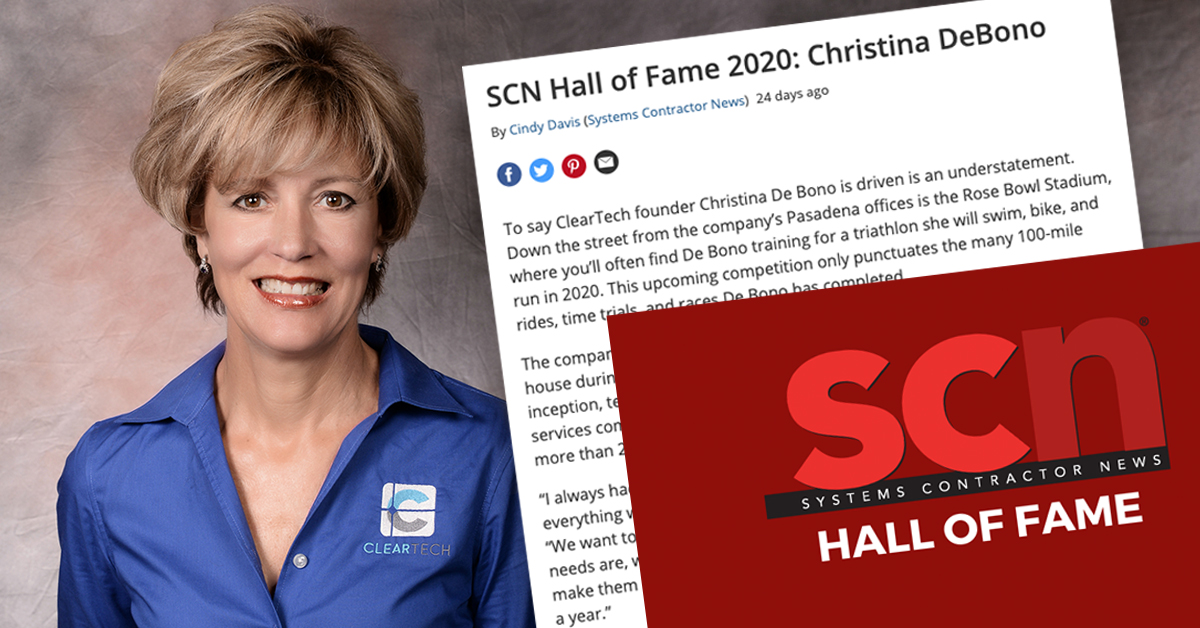 Upon learning that Systems Contractor News had selected her as a 2020 inductee to the SCN Hall of Fame, two things ran through our founder Christina De Bono's mind:
First: "What an honor! If you take a look at this year's other inductees and past Hall of Famers, it's very clear that this is no small thing," says Christina. "The honorees' achievements speak for themselves. Moreover, Systems Contractor News is respected industry-wide for its knowledge and judgment. If SCN says you're doing something right, one thing's for sure: You're doing something right."
And that's what led to Christina's second reaction: a feeling of confirmation and validation that ClearTech's focus on service goes right to the heart of what our clients need from us – and what our industry needs to provide if we're to remain relevant in a fast-changing technology landscape.
"We founded ClearTech on the guiding principle of establishing life-long relationships with our clients" says Christina. "When we first opened our doors ten years ago, there was no shortage of AV integrators and service providers, but most were focused on selling solutions and moving on. Service was almost an afterthought.
"Well, that's not the way our clients' businesses work," Christina adds. "They don't just need the gear – they need the ongoing benefits those solutions provide, day in and day out, moment to moment. Lots of companies were available to design and install systems. Very few were willing or able to make the commitment to ensure the ROI on that investment."
That's what makes ClearTech special: our dedication ­to total lifecycle services support.
And when we talk about the "lifecycle" of our clients' AV systems, we mean it – starting from the very beginning, with a service experience that begins even before our clients sign on with us, and lasts far beyond when their solution is installed.
It all starts with listening. We dive right into the deep end with our clients, getting to know their businesses and their objectives, understanding what they need – and what they don't. This enables us to design solutions that not only solve a problem, but open up a world of new possibilities, broadening their bandwidth to achieve more than they once thought possible.
But no solution, no matter how well-tailored to a client's specific needs, will amount to a hill of beans unless it performs reliably. And we believe that's what the SCN Hall of Fame Induction testifies to: ClearTech's pioneering commitment to providing the service our clients need to take full advantage of communication technology in a world where change is the only constant.
Think for a moment about the role of AV technology in higher education. This is the era of the digital learner. Today's classrooms (and not just classrooms, but libraries, common areas, food halls and conference rooms) depend on technology to impart critical information, and when it's not working, those institutions suffer tremendous losses, both financial and reputational. It's the same in corporate environments, where communication technology failure – something as simple as a videoconferencing glitch – can exact a tremendous cost in lost productivity.
To give our clients the performance and peace of mind they need, we offer a range of support plans that go way beyond manufacturer warranties. They're a boots-on-the-ground assurance that we'll be there not just to resolve problems, but to prevent them from occurring in the first place.
That caliber of commitment isn't just relevant to clients. "I think also about our industry partners. Architects and designers take a tremendous risk in their choice of communication technology providers, because if the solution goes south, the clients won't just blame the integrator, they'll blame the ones chose who chose that integrator. Same with our vendor partners," adds Christina. "They need alliances that build their business, not threaten it."
There are much larger industry players than ClearTech, but none of them does more to support their clients' ongoing needs.
"I'm humbled to be a 2020 SCN Hall of Fame inductee," says Christina, "but I'm also energized by it, because it's one more piece of evidence that ClearTech is the AV technology partner our clients need to compete – more than that: to lead – in a new era."
Read the Service Contractor News' profile of Christina De Bono. It's a great opportunity to learn more about our founder, and the principles that propelled her to the Hall of Fame within ten years of founding our company.