From Reacting to Planning:
Takeaways from The New Hybrid World Event
August 2021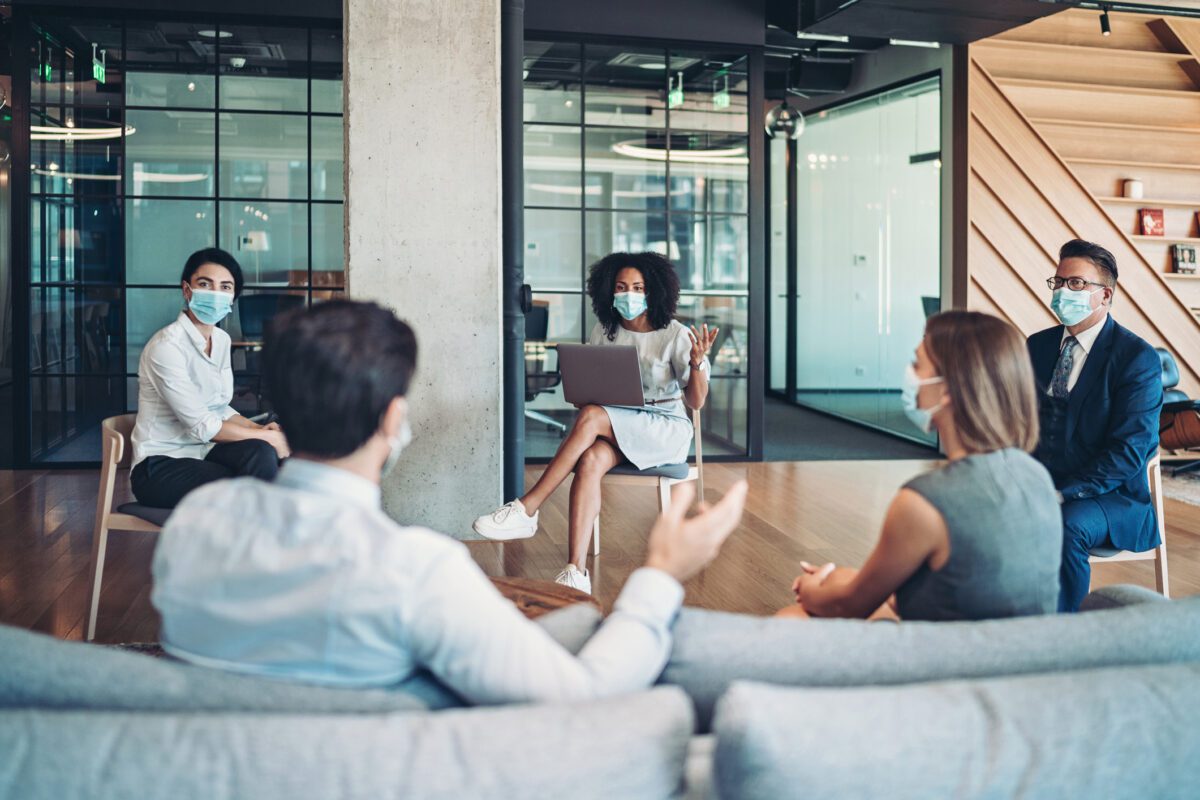 A timely topic, an all-star panel, and an engaged audience… It all came together on July 15, 2021 at The New Hybrid World: Connecting People, Space and Technology panel discussion.
Held at the downtown Los Angeles showroom of PeopleSpace and co-sponsored by ClearTech, Panasonic Professional AV, Crestron Control Systems, and Shure Professional Audio Systems, the event assembled a dream team of industry thought leaders. Panelists included Michael Kimes, senior project manager at NASA/Jet Propulsion Laboratory; Linda Kramer, senior director, occupancy planning at JLL; Dave Norton, project manager, capital projects at Cal Poly San Luis Obispo; Chris Spauling, director of technologies for Granite Properties; and Scott Haynes, director of building operations & facilities at the Leaf Group. In their capacity as leaders of IFMA Workplace Evolutionaries (or IFMA WE) of Southern California, ClearTech founder Christina De Bono and PeopleSpace managing director Holly Rau co-hosted the gathering.
Over the course of 90 minutes, some of the most forward-thinking people in their industries shared insights, answered questions, and brought needed perspective to the myriad of issues that are fundamentally changing how we view the workplace. Here are a few takeaways from the discussion:
15 months after the onset of COVID-19, planning has replaced panic.
A year-and-a-half ago, our journey to a hybrid workplace future accelerated suddenly and rapidly. That voyage continues today, but the difference is we're no longer hightailing it in the middle of a fog. We've hit a stretch of road where we can see more than a few feet in front of our faces; we've passed the reactionary, pandemic-driven response necessitated by the lockdowns and are taking a close look at the emerging hybrid landscape. It's not just about workplace technology, it's about the impact on workplace culture, workplace management and practices. Each organization is trying to find the right balance for itself. Organizational leaders, facilities managers, architects and designers, property owners, and employees have finally caught their breath, and are getting down to the business of figuring out how to get work done in a dramatically new environment. It's a monumental task, but already there's a vast well of expertise to draw on – which is important, because we'll need all the help we can get.
The office isn't going away. But it IS evolving.
The office isn't going away. But it IS evolving.
Working remotely isn't a new idea. Even without a pandemic, it makes a lot of sense, but many organizations hesitated to embrace a hybrid model. COVID changed all that by hurling businesses almost overnight into the world of remote work.
One thing we've learned is that – for many organizations, to various extents – remote work….works. Now the challenge is to make it work well. And for that to happen, the workplace needs to accommodate the new reality. Up until 15 months ago, the office was a static environment in that we knew how many people would be onsite every day. We knew when people would arrive, where they'd go in the office, and when most of them would leave. Now we're looking at some individuals and teams working remotely all the time, others dividing their time, and others remaining in the office all the time (as Michael Kimes of Jet Propulsion Laboratories notes, if you're working on building a Mars rover, NASA's not going to ship the engine to your house).
To enable a hybrid workforce to be productive, offices will become more heavily weighted to collaboration and innovation spaces. We'll still need heads-down solo workspaces, but they'll occupy a smaller percentage of the real estate in order to accommodate those activities that MUST take place at the office. As they come to understand what needs to get accomplished, by whom, and at what time, offices are rapidly evolving into environments that can accommodate a distributed workforce. All of this is enabled by technology: collaboration technology, wayfinding technology, workplace utilization technology, safety technology and more.
In the past, there would have been quite a bit of resistance to these kinds of technological innovations. After all, they're not inexpensive. They require training to operate and skill to maintain. And there's no guarantee that each application will yield ROI. But now that many of us have gained remote work experience – and found that it ain't so bad – the barriers to change have diminished significantly.
Adopting the hybrid model entails challenges – and presents opportunities.
Let's face it, the hybrid workplace comes with some distinct upsides – advantages that go beyond eliminating the daily commute for those working from home. For one thing, it greatly expands the pool of talent an organization can draw from. It gives employees more choices, options and flexibility. At the same time, a hybrid model makes it a lot harder to gauge the productivity of a remote workforce, and even more difficult to create and maintain a shared culture and mission. We've moved from a static to a dynamic workplace model, and that obliterates much of our routine. To make sense of it and channel all that energy to productivity, we need new technologies – friction-free, seamless approaches to managing space, maintaining safety, and accommodating the varying needs of disparate groups. We also need new approaches to managing people, and that's going to require a huge investment in training. After all, many traditional performance metrics, such as how much time you're in the office, will no longer apply. We have to shake off the conventions of last-century thinking and explore a new operating model that won't just maintain the status quo, but reset it entirely.
Technology's at the center of the hybrid workplace.
Consider the challenge of making office spaces work for waves of people who'll be in the office part of the week, and then leave, making room for others from different departments, performing different categories of tasks. This creates huge issues for facilities managers, HR folks, and others charged with enabling worker productivity. One thing we know for sure, however, is that technology will be central to the new workplace. Sensors, wireless communication, machine learning…they'll work together to understand and respond to shifting usage patterns. You'll see the results in everything from new room booking and reservation systems, to office safety protocols and wayfinding. Imagine an office in which most staffers do not have an assigned workplace. What happens when they arrive and need to know where to go, how to find their team, sync schedules and reserve spaces? That's a simple question that goes to the heart of the employee experience, and from there many other questions arise regarding productivity and collaboration.
Nothing will get done unless people feel safe and secure.
Much of the uncertainty around workplace safety and security comes down to logistical challenges. How do you maintain healthy occupancy levels? How do spaces get cleaned, and stay clean? How do you reduce the number of objects and surfaces people need to touch? And how do you decide when and how to make changes when CDC guidelines frequently shift? From improving HVAC to adopting hands-free technologies, everything is getting looked at. The challenge is to advance safety and security without create new complexities, stifling the culture, or getting in the way of people simply doing their jobs. Many of these questions – like "What's our cleaning schedule?" – used to fall under the purview of facilities manager. Now, everyone's in on the process – because everyone has a real stake in the outcomes.
Design shifts will overlap with technological ones.
Activity-based and agile workplace models are not new but current circumstances have been a catalyst for their reexamination and evolution. More than ever before, we need to address where people are working, whether it's the office, at home or a third place. Beyond that, we need to look at how they work. What's interesting is that today it's not just employers who are examining these issues, but virtually everyone with a connection to the workplace. Granite Properties, a leading property management firm, is devoting tremendous energy to tenants' requests for more flexible and collaboration-oriented workspaces. One issue: How to entice tenants with shared building amenities – more conference rooms on tap, attractive social spaces, options to use spaces at other buildings managed by the same firm, and technological features that allow a business's private network to follow workers into spaces outside their private offices. They don't have all the answers people are looking for, but savvy firms like Granite Properties are hard at work planning for a new generation of office environments and management models.
As the workplaces change, so will management practices.
Policies need to change with new business models. As workforces become distributed, we'll need new tools to measure effectiveness, for example. Training protocols will have to evolve, too. It's no longer just a matter of handing a new employee a laptop and saying, "Off you go." In the new world, how do you train leaders? How do you develop performance-based accountability? And as new practices are developed, how can we avoid pitfalls that exacerbate gender and class biases? The goal is to ensure that all employees – regardless of where they are – have the same opportunities and experiences, are compensated in a manner commensurate with their job features and duties, receive the same quality of training, and are onboarded, mentored and acculturated in an equally effective manner.
Moving from reacting to planning.
The shock of the pandemic has subsided. Some of what we thought would be temporary accommodations will clearly become permanent changes. For technology providers, a whole array of new challenges has come to the forefront (Just ask anyone in the AV and IT sectors). But the hybrid world impacts virtually everybody. Architects, designers and builders have entered into a great unknown. So, too, have facilities managers. Then there are the HR folks; their world has transformed profoundly. And none of these transformations can be handled in a silo'd manner. Cross-disciplinary communication is essential to embrace the hybrid world while enabling organizations to remain true to their mission, focus on their core competencies, and simply keep the lights on. It's a tall order, but here's the good news: A lot of very, very capable people are devoting themselves to finding the answers we need. And organizations like ClearTech, PeopleSpace, and IFMA, along with leading manufacturers like Panasonic, Crestron and Shure, are right there with them. It's a new Hybrid World, but the time-tested benefits of collaboration will get us there together.
Tell us how your organization has been affected by the events of the past year and a half. We'd love to know what issues you're facing – and how we can help you take advantage of all these changes to make your organization stronger and more competitive than ever before.