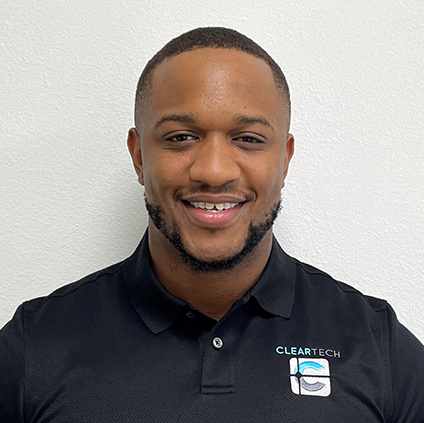 "Education is a critical component of ClearTech's growth strategy," says ClearTech CEO and Founder, Christina De Bono.
Today, Osahon (Swele) Osime will be joining ClearTech AV as Account Executive specific to the education market. In this strategic role, Osime will introduce schools and universities to new possibilities in educational technology, with a focus on ClearTech's EduFLEX hybrid classroom solution – an easy and economical way to bring true UC capability to most any space.
Prior to ClearTech, Osime held a senior marketing role for Global International College Ltd., a strategic firm helping place students to schools worldwide. In addition, he held an account executive position at Westlake Financial Services.
"The Account Executive position at ClearTech is a beautiful combination of both higher education and sales – two of my greatest passions," explains Osime. "I love the thought of being able to draw on my experience in both areas to help ClearTech deliver its unique solutions."
Swele Osime joins ClearTech at the perfect time. "The educational landscape is changing rapidly and dramatically, and higher education institutions have become increasingly reliant on technology to remain competitive," says Christina De Bono. "ClearTech has the technology, and Swele has the expertise, to help colleges and universities deliver real value to today's students."
For more information, please contact Kelly Perkins at kellyp.perkins@gmail.com or by phone at 612-298-7688.